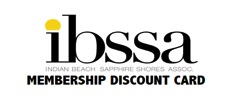 Indian Beach-Sapphire Shores Neighborhood Association
Membership Benefit information and Discount Card Program
To all our new and long time neighbors "Welcome" to this page.
The Indian Beach-Sapphire Shores Association (IBSSA) is a non-profit, non-political organization whose goal is to preserve the integrity of the neighborhood, maintaining and enhancing neighborhood public spaces and contributing to the safety of its residents. Being part of the "IBSSA" strengthens our voice at City Hall in matters affecting the neighborhood. We have long been recognized as one of the most active and effective associations in Sarasota. The success of the Association is ultimately determined by our strength of membership numbers.
Our membership calendar year runs January through December!
Your yearly membership of $30 per household contributes to our operating expenses such as our Annual Association Business License and Insurance, our PO Box fee, website maintenance and neighborhood meetings and materials. In addition it also contributes to our Beautification/Greenspace committee, doggie bags which helps keep our public space looking good, as well as on-going neighborhood projects (Little Library @ Indian Beach Park) and of course events like Picnics with are held annually. Special mailings of postcards and informational letters (postage and printing has gone up) to all residents who are not on the email list and our 4 Newsletters that are sent to every household in the Indian Beach-Sapphire Shores Neighborhood are all examples of our yearly operating expenses. By joining or renewing your membership, you also get your "IBSSA Members Discount Card".
All new and renewing IBSSA members receive a card that may be used at local participating businesses along the Tamiami Trail, and throughout the city for a discount off their goods and services. Businesses include local restaurants, coffee houses, pubs, retailers, and other services.
There is no additional fee to have this card – it is just another perk of joining IBSSA!
The IBSSA Membership Discount Card is a way for local businesses or service providers to recognize and reward IBSSA members. By supporting our local business owners, we support our neighbors and also help make the Tamiami Trail a desirable location to attract wonderful businesses. Purchasing local helps grow our tax base and improve our community!
For a list of current participating businesses and vendors, visit the IBSSA website:
Click here for "IBSSA Membership Discount Card" List of Businesses
All "IBSSA Membership Discount Card" businesses and vendors will have a "IBSSA" sticker located near their entrance door. To receive your discount just show your membership discount card and a valid form of ID.
If you are an IBSSA Member and local business owner and would like to learn more about including your business in our neighborhood discount program.
For questions or more information, or if you have never received a Membership discount card,
please email: Membership@ibssa.ws
Restrictions Apply: Cannot be combined with any other offer. Does not include "SALE" items. Subject to presentation of an actual valid IBSSA Discount Card and valid ID. Copies are not accepted. Discounting does not apply to sales tax, shipping, or gift cards. Valid for in-store/in establishment use only.
IBSSA is not responsible for store closings and price/discount change.