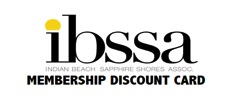 IBSSA is proud to introduce a new membership benefit,
"The IBSSA Membership Discount Card".
Coming in 2018, all new and renewing members will receive a card that may be used at local participating businesses along the Trail and nearby for a discount off their goods and services. Businesses will include local restaurants, coffee houses, pubs, retailers, and other services. There will be no additional fee to have this card – it will just be another perk of joining IBSSA!
The IBSSA Membership Discount Card is a way for local businesses or service providers to recognize and reward IBSSA members. By supporting our local business owners we support our neighbors and also help make the Tamiami Trail a desirable location to attract wonderful businesses. Purchasing local helps grow our tax base and improve our community!
For a list of participating businesses visit the IBSSA Website or look for the IBSSA Membership sticker located near the entrance of local businesses. To receive your discount just provide your valid card with a valid form of ID at time of purchase.
If you are an IBSSA Member and local business owner and would like to learn more about including your business in our neighborhood discount program please reach out to John Smith at: John@smithsold.com
Click here for "IBSSA Membership Card" Up to Date Discount Information
Restrictions Apply: Cannot be combined with any other offer. Does not include "SALE" items. Subject to presentation of an actual valid IBSSA Discount Card and valid ID. Copies are not accepted. Discounting does not apply to sales tax, shipping, or gift cards. Valid for in-store/in establishment use only. IBSSA is not responsible for store closings and price/discount change.